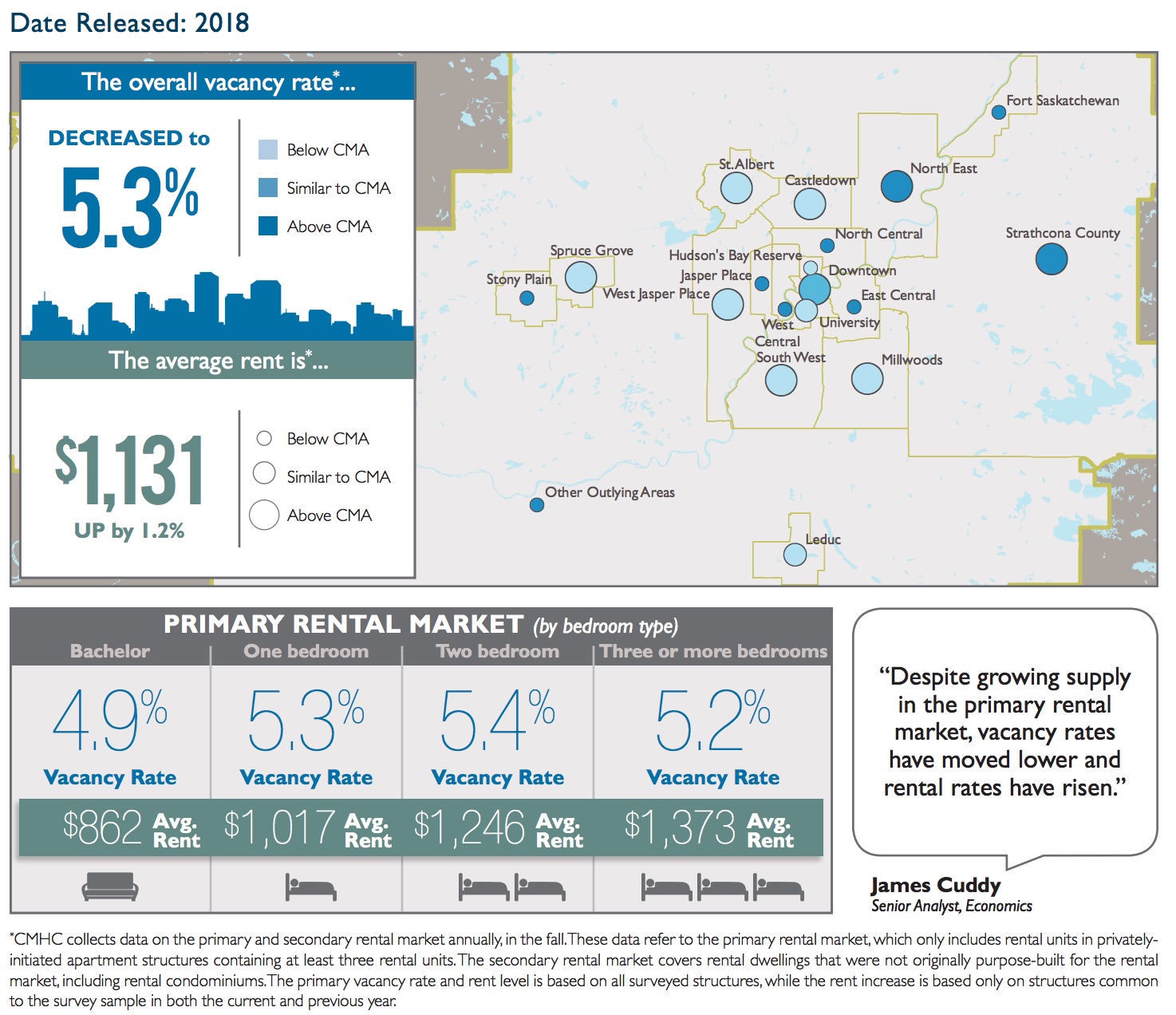 CMHC has released their fall rental market reports for Edmonton, Alberta and Canada. See full reports linked below and summary of key indicators for multi-family apartment landlords below. Contact us if you have questions about how this affects your property holdings or acquisition opportunities.
Edmonton
Highlights "
The apartment vacancy rate was 5.3% in October 2018, down 1.7 percentage points from last year. "
The average two-bedroom rent was $1,246 in October 2018 compared to $1,215 in October 2017. "
Increased rental demand led to a rise in same-sample rental rates for the first time in three years.
Stronger employment growth and migration supported rental demand
Employment growth in 2018 in Edmonton has been stronger than other areas of the province, driven in large part by industries such as oil and gas extraction, educational services and public administration. Edmonton added over 16,000 jobs in the first 10 months of this year, representing an increase of 2.1% from the corresponding period last year. Average weekly earnings have also gained momentum this year compared to last year.
Stronger migration flows into the Edmonton CMA have also contributed to increased demand for rentals. In particular, net interprovincial migration across Alberta shifted to positive territory in the first half of 2018. This comes after the last oil price shock had prompted a 2-year exodus of individuals from Alberta, in part, to seek employment in other areas across Canada. International migration continued to be an important source of rental demand, as migrants tend to rent before purchasing a home.

Alberta
Key graphs summarizing all major rental markets in Alberta for both vacancy rates and average rents.
Canada
---